Blog
02/05/2019
I just had to write a quick blog about the progress of one of my special Little Learners! She is absolute proof that however much a child doesn't like to 'get messy' they can learn to embrace the mess. But it can take time.
This little girl and her lovely mum have been coming to Little Learners Lewes and Brighton since the very first session I ran back in September last year. They both enjoy the sessions together and really use them to have valuable Mummy, daughter time (and sometimes Daddy, daughter time). This particular Little Learner LOVES the singing and dancing at the beginning of the class and has learnt to make all of the pre-writing marks with the ribbons and scarves…. she also loves the washing time at the end and loves to splash in the water! However, she never really needed much cleaning as she didn't really get very messy!
Her mum would let her choose the activities she wanted to do, which is what we encourage at Little Learners classes…. they are child-led and the children learn through play. She would invariably choose the 'less messy' options like playdough, drawing and loved the dry trays. Her mum gently encouraged her to 'have a go' at the painting or wet tray activities, but never forced her. She would try them briefly, but want to wipe her hands afterwards and didn't like getting any 'mess' on her. This is very common at Little Learners classes and also fine. There are plenty of 'less messy' activities to try. However, this Little Learner's mums gentle encouragement eventually paid off!
You can imagine our surprise and delight when, as part of a special Mother's Day class, she was encouraged to make a handprint with paint. At first she was unsure, but look what happened next!! She realised it was okay to get paint on her hands and LOVED the feel of it so much she wanted to keep her hands in! This was after 6 months of classes!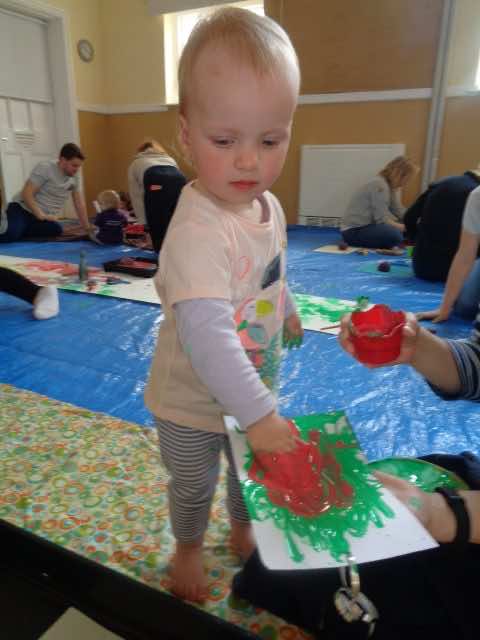 Now she embraces the mess each week and has got braver and braver at trying new 'messy' activities. It is so lovely to see! We are all super proud of her. Just look at her last week with the paint.
So – if your little one comes to a class and doesn't immediately embrace the mess, that's fine. They will still be learning through playing. They will still develop their fine and gross motor skills. They will still learn to socialise with other children. They will most importantly still HAVE FUN! Who knows – with a bit of perseverance, one day they might look like this Little Learner!
Come and join us at a class in Cooksbridge, Lewes or Uckfield and see if your little one learns to love the mess or maybe they'll just get stuck in straight away!
Kate (Little Learners Lewes and Brighton)