Blog,East Renfrewshire and East Ayrshire
05/10/2022
It's October! Autumn is in full swing, warm summery days – a mere memory. Days are colder, windier and wetter. Outdoor play is very limited compared to a few weeks ago. So what are we to do at home with our little ones?
Here are a few suggestions of activities to do at home, bringing the outdoors in! I hope you get inspired and manage to keep those curious minds busy.
Once the leaves start changing colours and falling down collect them, dry them and play with them. Here is what we do!
LEAVES BRUSHING
Does your toddler love to help with keeping the house tidy?
This one is going to be right up their sleeve.

EQUIPMENT
autumnal leaves (either real ones picked up on a walk and dried or artificial ones)
masking tape
small brush (or a toddler brush if you have one)
ACTIVITY
Use the masking tape to make a large rectangle on the floor. Spread the leaves on the floor. Hand your toddler the brush and encourage them to brush the leaves into the rectangle.
TIPS
If you have another brush for yourself, you can do it together with your toddler to show them what to do. When you complete the task, celebrate with a high five!
You can also do this activity with DUPLO blocks, small plastic toys, crayons, etc.
This activity works well when it is repeated often as the little ones love to get better at it every time they play.
AUTUMN LEAVES TODDLER MATHS
EQUIPMENT
autumnal leaves in various shapes, colours and sizes
red, yellow, orange and brown plastic plates or coloured paper or tubs or baskets
optional: paper – A4 or A3, whatever colour
optional: glue
ACTIVITY 1 – colours
Talk about the different colours of the leaves and put them in the matching tub/plate/sheet. Talk about which colour you have more or less of. Celebrate success and take some pictures to show family members.
ACTIVITY 2 – sizes
This is an adult-led task, especially for the younger children. Talk about some leaves being very small and some very big. Adult should pick between 4 and 5 leaves of different shapes. Adult puts them in order from the smallest to the largest and shows them to the child. Use the words: "smallest", "small", "bigger", "biggest". Mix them up and try again. Can you do it yourself?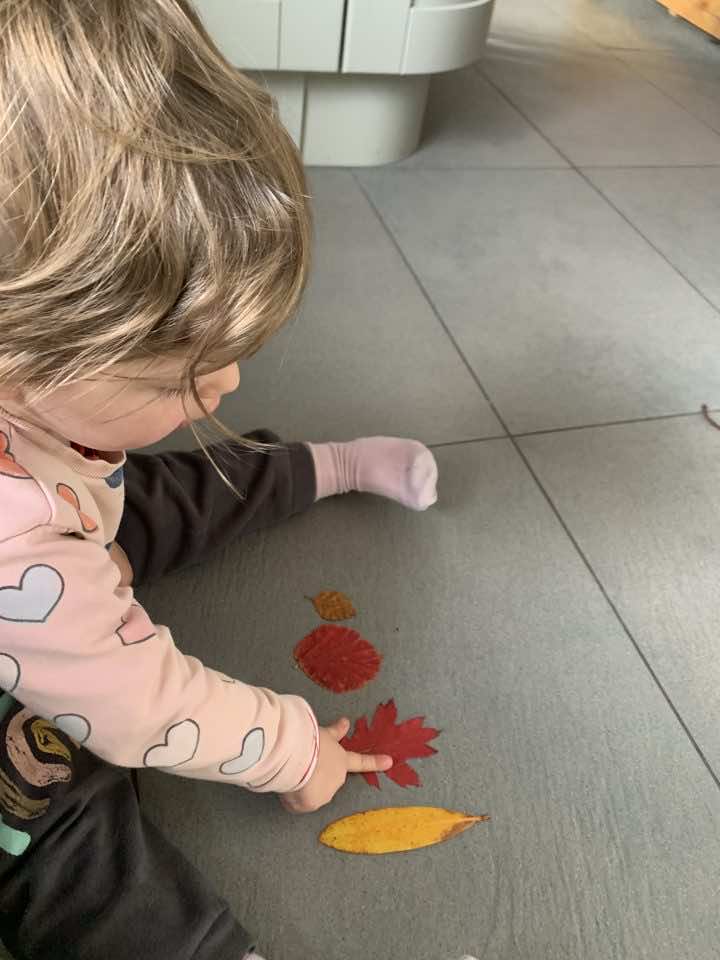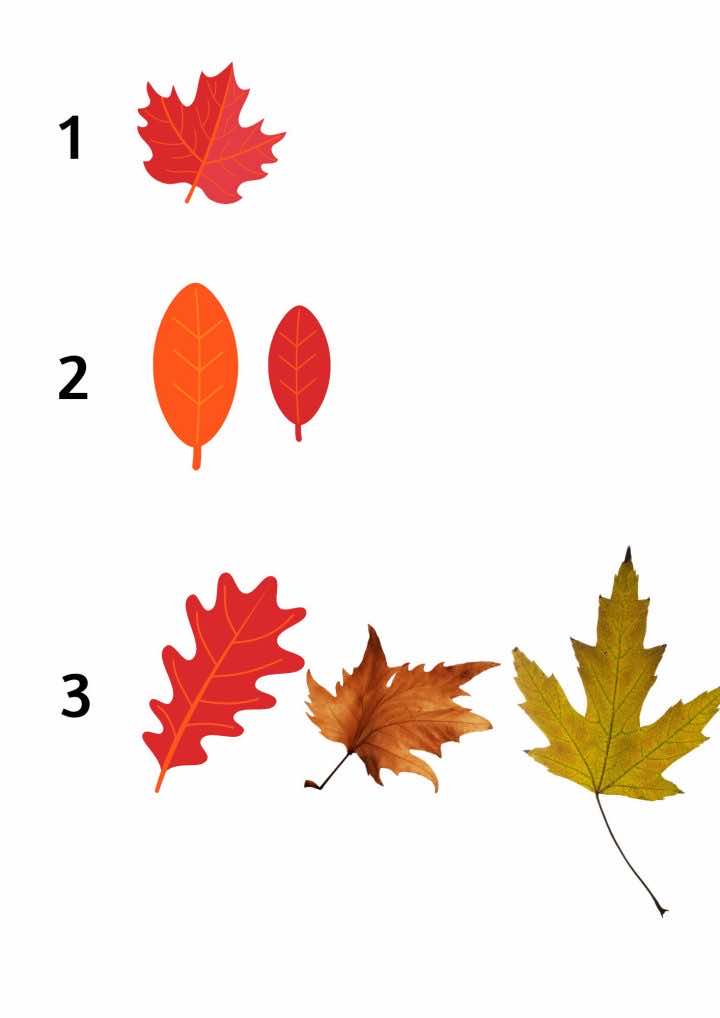 ACTIVITY 3 – numbers
Toddlers are very curious about numbers. We can show them what a few of the numbers look like! I am not talking here about number formation, although some 3 and 4 year-olds may be ready to explore these, too.
Let's take one leaf and put it here: one.
Let's take two leaves and put them over here: one, two.
Let's take three leaves and put them over here: one, two, three.
You can continue if your toddler is ready and curious for more.
You can also stick the leaves with on a piece of paper and hang it somewhere easily accessible, so that you and your toddler can come back to it.
One more activity for the Halloween month:
PUMPKIN PAINT AND WASH
Pumpkins of all shapes, colours and sizes have started popping up in the supermarkets.
I usually buy the medium sized ones for this activity, but any size will do.

EQUIPMENT
floor protection – a flat sheet or a tablecloth or large towels or small tarpaulin
pumpkins – as many or as few as you wish
paint of your choice – for taste-safe version use yoghurt with food colouring
paintbrushes
large tub – plastic storage box (the ones that go under the bed are great) or washing up bowl or a bath tub
water
baby bath
sponges or cloths
ACTIVITY
Protect the floor with a sheet. Put the tub in the middle of the sheet and add the pumpkins. Get your paints, paintbrushes and let the children go to town with painting the pumpkins. Once finished, take some pictures to keep the memories forever. Put the paints and paintbrushes away. Pour some warm water to the tub, add some baby bath and the cloths/sponges. Now it's pumpkin wash time!
TIPS
Weather permitting, this is a great activity to do in the garden.
If doing it at home with the younger ones, I would suggest doing it in the bath to limit any paint damage and to simplify tidy up time.
Did you like these activities? Let me know how it went – I love hearing form you! You can email me at alicja@littlelearnersuk.com or leave a comment.
LITTLE LEARNERS AT HOME
Would you like some more autumnal and Halloween themed developmental activities that are more and less messy? I am currently working on a PDF guide with a list of 10 activities and crafts, equipment and resources lists, tips and tricks of successful messy play at home, with developmental play ideas for ages 5 months to 5 years. All of this seasonal fun for only £3.95! They will be sent out on Friday 14h October to everyone who pre-orders their copy. If you would like to pre-order your copy, you can do it here.
AND REMEMBER! We have FREE Halloween colouring sheets available in the Little Learners shop, ready for you to download. You can find them here.