Blog
20/03/2020
Hi there I'm Sharna – Solo mama to Alden Jax – our blog is Life with Alden Jax. Little Learners Guest blogger for today to tell you all about one of our FAVOURITE things!
If you've followed our adventures over on our instagram for a while now you've probably seen, that along with being an introvert as a personality trait, anxiety often stops by and has me ultimately believing I can't go places on my own. Being a solo parent is pretty isolating at times! I used to really rely on making sure I had a friend and a familiar face when I went to any play groups or classes and even then I used to often ditch out because life was overwhelming that day or plans were changed due to different schedules between me and my friends.
Alden loved messy play as a baby, so much so his first birthday was a rainbow messy play party I concocted myself with different little play pools having different themes for him and his little friends to, frankly eat – at 1 year old messy play was literally a buffet – so a colourful buffet he had!
I'm okay with mess after researching the amazing benefits it has for Alden, although I do have some OCD tendencies I would forgo them, albeit intermittently, to make dude all kinds of messy fun – themed, different homemade textures and of course baby led weaning alone! Am i right?
I'll be honest it was a little isolating making all this stuff and only dude enjoying it. I wasn't aware of any messy classes in my area that were on my days off or budget friendly, until I came across Little Learners Northumberland.
I remember one day stumbling across a facebook event Christ-Mess event being held it looked like so much fun and was Christmassy! I asked my friends but no one could make it that day – so I thought just bite the bullet and go alone. It was tough for me but one of my favourite things being Alden's mammy is watching him enjoy himself – he loved the session! We've been hooked ever since – a year later we're there every term. Alden has made new little friends and I have found a lovely group of local Mammys we all look forward to each week. It's our Messy Monday routine that dude that we miss during the term breaks.
Georgia who runs Little Learners Northumberland, is incredible at what she does. The different ideas and set ups she puts out each time are not only fun they're always different and innovative. You can see that she really loves her job and puts her everything into each class! I'm also super grateful to Georgia for taking some candid photos of me and dude – being a solo parent, and a photographer, I'm always behind the camera!

Every week there are different trays and sections with a range of textures and mediums such as paint, rice, crazy foam making it super fun to learn. She also holds seasonal classes that are super fun – the Halloween class is our favorite – Alden was a spooky skeleton Little Learner last halloween!
Fancy a messy play party for your little one, Little Learners can tailor a party to your little ones interests for them to enjoy their special day! I've seen some fantastic set ups from Dinosaurs to Unicorns to well known cartoons peppa and duggee.
They can really make your little ones day super fun! They bring everything you need for the party to a venue of your choice, you all have fun, then they clear up the mess afterwards – could it be any better?!
They can even cover corporate events where children are involved – here Georgia had a set up in a local companies opening day. She even incorporated the companies mascot into it too!

Little Learners is a multi-award winning activity provider based around four mark makers – that help little ones learn specific marks to support their development and early writing skills also in relation to EYFS.

There is Lionel, Archie, Swirlo and Ziggy – all encompassing the fundamental marks Line, Arc, Swirl and Zig Zag.

Every week is focused on a different mark and little ones are encouraged to use different techniques to make that week's mark. Expressing themselves in all different ways developing their motor and mark making skills ultimately learning through play!
It's these basic marks that have strengthened Alden's writing and drawing – he writes his name so well putting the lines and archie arcs together – I'm so amazed and proud of him.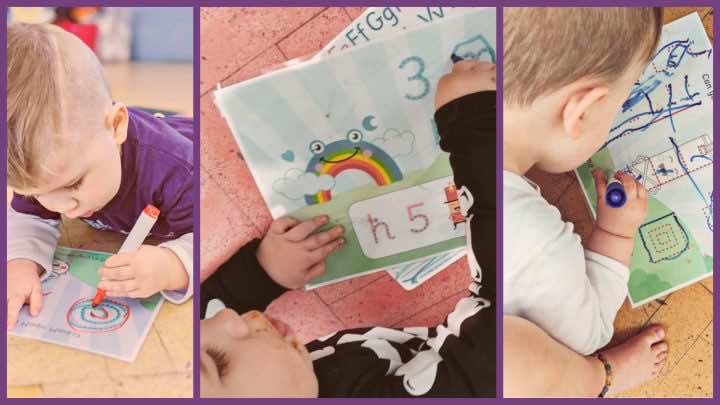 There are franchises up and down the UK and they've even started up down under – how amazing is that – Little Learners is a business going from strength to strength!
If you're looking for a class – head to the Little Learners UK website and use their class finder tool! They also have a Shop section on their site which allows you to buy their merchandise, books around their mark makers that your little ones can continue learning at home and messy fun from brands they love and use in their sessions so the fun never ends.