Blog
07/10/2017
Huge congratulations to Ailsa Bourne from Little Learners Newcastle for being awarded our Franchisee of the Month for September!

Ailsa has been running Little Learners in Newcastle for 8 months now and has built up four amazing weekly classes in Jesmond, Gosforth, Kingston Park and Denton Burn.


She has also ran some outstanding events such as Easter themed and many outdoor events in parks across Newcastle during the summer. She is planning some amazing Halloween and Christmas events which are due to go on sale and with her track record, are bound to sell out quick!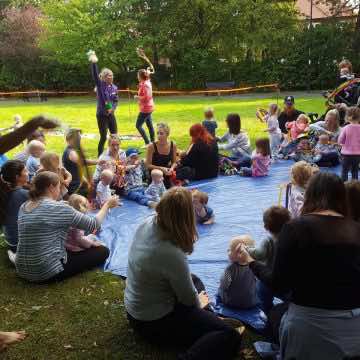 Ailsa also hosts Little Learners birthday parties for children in Newcastle and has been honored to run lots messy parties and cake smashes in 2017 already!

Ailsa has received fantastic parent reviews and feedback this month!
My little boy is nearly 6 months & absolutely loves getting messy at messy play!!! He wasn't too sure at first, but with encouragement from the lovely Ailsa, his smiles throughout the whole session!!!
#welovecolourfulspaghetti

Ailsa did Ellie's first Birthday party for us and she really went the extra mile to make the activities things which Ellie loves! All the kids who attended had a fabulous time een if they had never attended a messy play with Little Learners before! Ailsa also did an amazing job of cleaning up afterwards! A brilliant party all round! Thank You!!
Ailsa's class timetable in Newcastle:
Click on the links to book one of her classes but don't delay her spaces fill up fast!!
Gosforth Messy Play
Monday, 9:30 am – 10:30 am
Gosforth Messy Play
Monday, 11:30 am – 12:30 am
Kingston Park Messy Play
Tuesday, 11:20 am – 12:20 am
Jesmond Messy Play
Thursday, 10:30 am – 11:30 am
Denton Burn Messy Play
Friday, 1:00 pm – 2:00 pm
A massive congratulations to Ailsa again – September's Franchisee of the Month!