Blog,Lewes & Brighton
18/05/2020
Are you missing your extended family during lockdown?
We certainly are! We were having a game of guess who the other day and getting a bit bored of all the same characters. We always pick the funny looking ones and get the giggles!!
So we decided to make our own guess who family game. It was such a lovely thing to do together with my daughter who is really missing her grandparents, aunties, uncles and cousins as am I. We can't wait to go and visit them after all this is over. It was great because we looked at photos of them all so we could draw them.
How to make it
(If you've got a guess who board with card inserts)
Get two a pieces of card the same size as the insert – we just used a cardboard box.
Stick white paper on one side of each piece of card.
Slot the card in to the frame and mark with a pencil where each face is.
Draw the same faces on each piece of card but in different positions and colour in.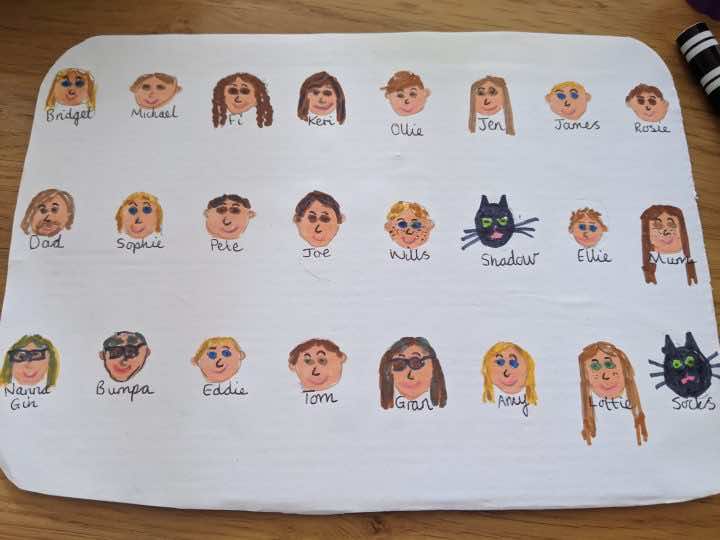 Write the names of the people under each face.
If you haven't got a frame, you can still make this on 2 pieces of card and play the game by covering the faces with post-its or pieces of paper.
How to play
Each player has one board.
Choose 1 person but don't tell the other player. On our game you put a little peg in the board, but you can just as easily write it on a hidden piece of paper.
Take turns to ask yes/no questions e.g. Is yours a boy? Does yours have glasses? Is yours a child?
Each turn you eliminate one or more people by flipping them up (on the board version) or by covering them up.
The first person to guess their opponents person is the winner!
Disclaimer – We apologise to all family members for our awful pictures!!! It's hard to draw in such a small space! That's our excuse anyway!
I'd LOVE to see your Guess Who family game if you give it a go! It's really great fun and a lovely way to think about everyone when we can't be together.
Enjoy!
Kate (Little Learners Lewes & Brighton) xx
To book onto an Online Mark Making Class click here.