Basingstoke,Blog
31/03/2023
I can't believe it… Easter is just round the corner. At Little Learners up and down the country, we have been busy running Easter themed messy play, classes and events. This is definitely one of my favourite times of the year – any excuse to use lots of cocoa and have lovely smelling trays!
I run classes in Basingstoke and thought I would share what we have been up to and give you some ideas for messy play and mark making activities to do at home.
The GIANT Carrot
This one is edible and is simply noodles coloured with food colouring. I use Vermicelli noodles as they are quick and colour easily. Cook the noodles for a few minutes then pop them in a colander and cool them down with cold water then just pop them back in the pan and add a few drops of food colouring. Use your hands to mix in colouring. For the leaves/stem of the carrot I used green lolly sticks. The children loved it! A fab one for fine motor skills and exploring new sensory textures.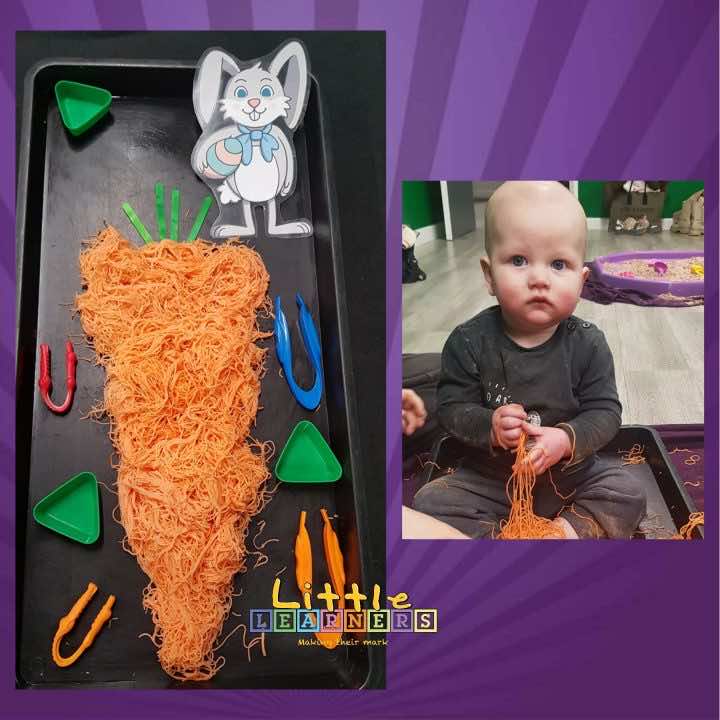 Chocolate Bunny
This is my favourite Easter themed tray and it's always a huge hit. Chocolate moon dough dusted with Rice Krispies. I love the feel of moon dough as it's super soft, but you can still make moulds. It smells wonderful too.
Easter Crafts
This was the MOST popular tray this week and at one point I glanced over and saw mums sat making cards and chatting. Who said our sessions were just for little ones! I love how Little Learners creates a safe environment where children can explore, learn through play and gain independence.
In the craft tray I had a selection of cards, foam eggs, stickers, Easter egg print outs, mark making laminates as well as pens, colouring pencils, paint sticks and glue.
Similarly, I also had little labels which said 'To _____ Happy Easter, Love _________' A simple way to encourage children to make their mark. Even if this is just a scribble or line! In one class a girl sat and tried really hard to write her own name. She knew the letter sounds and was able to write a 'G' for Georgie. A great first step!
Remember at Little Learners we love to hear about what you get up to at home. So if you've tried any of these out or any other messy play activities then do share.
Have an amazing Easter!
Lene x