Uncategorized
17/11/2021
Yay! It's Children in Need week and we love to do all we can at Little Learners. This week at Little Learners Lewes and Brighton we have themed all of our trays and activities. We are also collecting any loose change across all of our classes and hope to raise lots of money.
Swirlo our magic Mark Maker is a perfect match for this week because she LOVES making circles and spots, just like Pudsey Bear!
Here are just some of the fun and engaging activities in classes this week. There are some great ones you could try at home with your little ones too!
Find Pudsey's Spots!
This is a great activity for those fine motor skills, which we always work on in class. The children can use the tweezers or just their fingers to pick up the tiny pom poms and chick peas and post them in the holes. This has been a BIG hit at classes!
Dotty Pictures
These bingo dabbers are fab for making spots! Amazing for the children's hand eye coordination, trying to get the spots on the snails!
Water Play!
Always a favourite at Little Learners! Fishing the spots (balls) out of the water and having a good splashing time too! Maybe one for the garden at home!!
Painting with pom poms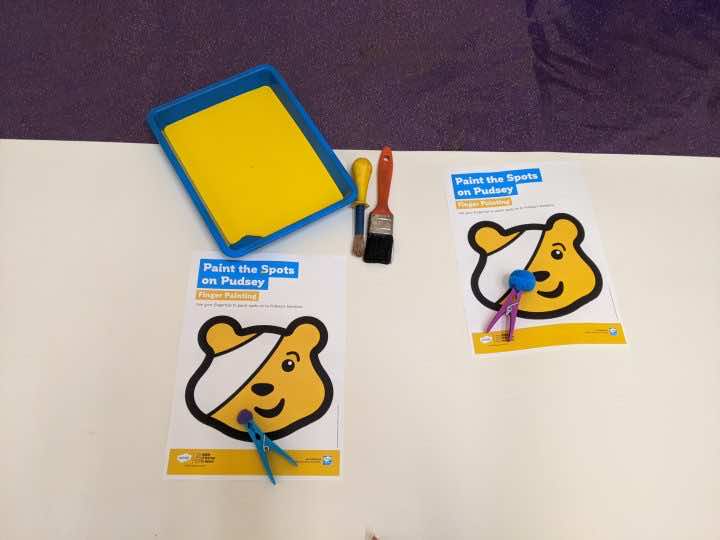 Kids love using these home made paint brushes! Just pop a pom pom on the end of a peg and you can use it to make spots for Pudsey's bandanna! So much painty fun!
We have had so much fun so far this week with our Children in Need activities. I hope you enjoy trying some at home too. Or maybe you have other ideas – please share them with us!
Kate x