Activity Idea!,Blog,Lewes & Brighton
04/10/2022
Tuesday 4th October is World Animal Day so at Little Learners Lewes and Brighton, we are celebrating all week with some fabulous animal themed trays and activities! Some are really easy to try at home, so why not give them a go!
Spaghetti Lion
Let's start with our fabulous spaghetti lion!! It's so easy to dye spaghetti, just pop some food colouring in with the water and then boil your spaghetti as normal. I usually add a little oil just to keep the strands separate and not clumped together! Just look at the fun we had with this one in class this week! We had spaghetti hair dos and hid our feet in it too! We even practised our scissor skills and used safety scissors to snip the spaghetti.
Sand Cement Savannah
Next up is our wild animal tray. Another simple one to try at home. Just add water and washing up liquid to sand. It makes a really lovely sloppy consistency, kind of like cement. I've made it into a wild animal landscape here and the children had great fun scooping up the sand and splatting it back into the tray! They also hid the animals and used them to make animal tracks in the sand.
Painting animal patterns!
Look at these lovely animal pattern stencils! We also had farm animal stencils too. I love how the adults get so involved too!
Fine motor activities
Finally we always have a range of fine motor activities at classes to help build up those muscles in our fingers, hands and wrists ready for when we start to write. Here are some animal themed ideas.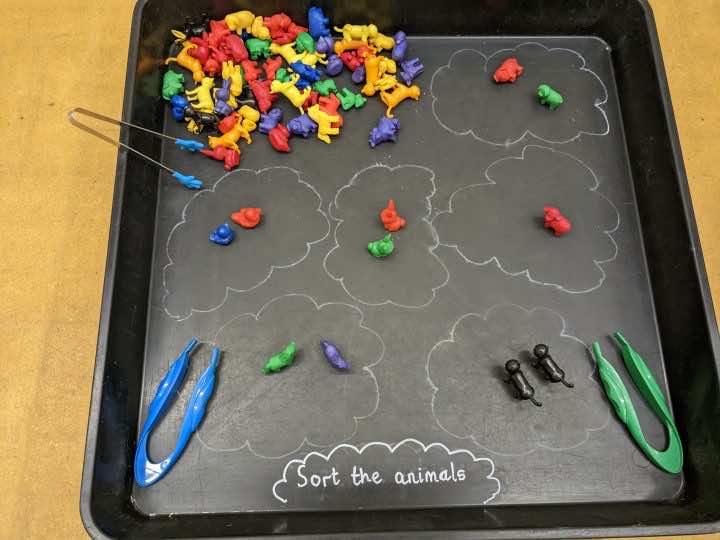 I hope these ideas give you a little inspiration to celebrate World Animal Day! Enjoy!
Kate (Little Learners Lewes & Brighton)