Baking with children always seems like a really good idea but I find sometimes it can get a bit stressful! I think recipes which are too complicated or too long can be tricky. This recipe is different because it's so simple and quick. Chocolate fridge cake is perfect for making with children because there is no oven or hob involved.
When I was little my mum used to bake for us all the time. She is great at baking and amazes me because she rarely measures anything with scales and the results are always very delicious!! She was famous among my school friends for making lovely, gooey chocolate cake. But my favourite recipe by far and a real comfort food for me is this one – 'chocolate fridge cake'.
So I'm going to attempt to recreate it with my 5 year old. She's going to love it!
This is the recipe my mum gave me!
What you need:
Big packet Biscuits (digestives are best)
Some butter (about half a pack)
Some golden syrup (about half a tin)
Quite a bit of cocoa powder
Packet of chocolate cake covering
A shallow container to put the mixture in e.g. a baking tin/Tupperware box/glass dish.
See I told you she doesn't measure anything!
How to make it:
Break up the biscuits into little chunks. You want them fairly small but you don't want only crumbs.
2. Melt the butter (this took 20 seconds in the microwave)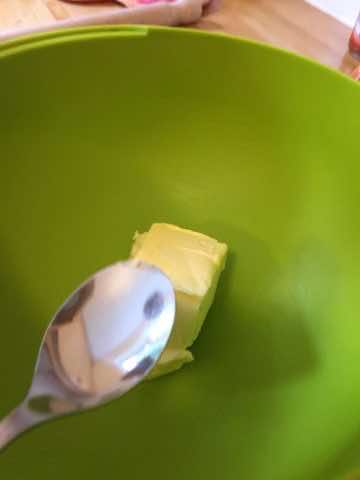 3. Add the golden syrup to the butter and melt it into the butter.(Steps 2 and 3 could be done on the hob but I'm going to do it in the microwave) It took 20 seconds in the microwave to melt the syrup too.
4. Add the cocoa to the butter and syrup
5. Add the buttery, syrupy mixture to the biscuits and mix thoroughly.
6. The mixture should not be too sloppy, it needs to be quite stiff. Put it into a container and push the mixture down.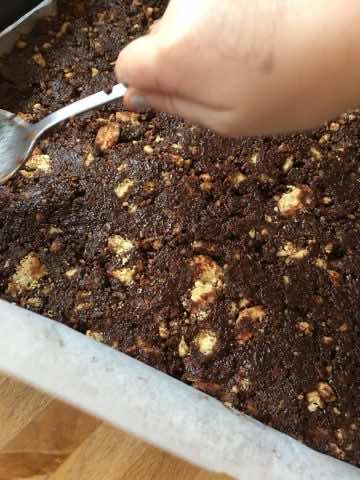 7. Melt the chocolate cake covering and pour over the mixture.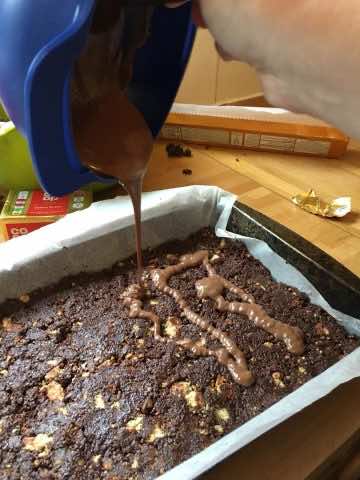 8. Leave in the fridge to set (this only took about an hour)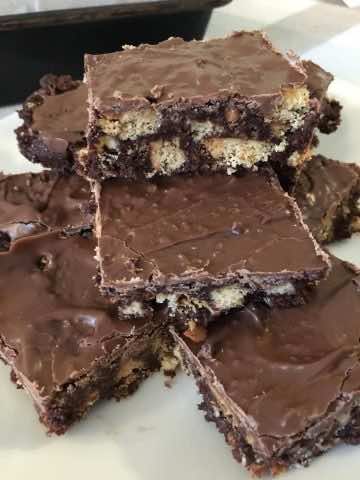 9. Cut it up and eat!
Did it work?
Yes! General consensus was that it was extremely more-ish!! Yum! My daughter loved making it as she could help with each stage. Very easy to make!
Exact measurements I used:
400g digestive biscuits
125g butter
200g golden syrup
4 tablespoons cocoa powder
150g milk chocolate (for the topping)
Alternative additions:
We like ours plain and chocolatey but you could add other goodies…
Other things you could add to the mixture include marshmallows or other sweets. Yum!
You could add nuts, raisins, dried apricots or dates to make it healthier!
It might be extra fun to add decorations on the top – icing, chocolate buttons, smarties
Have a go and let me know what you think!
Katie x
Little Learners Stockport