What do I dress my little one in?
This is completely up to you! But be aware they COULD get messy! So wear old clothes you don't care about. Babies often wear just a vest or a nappy. I have had older children come to classes in a swim suit which is a great idea! My daughter is 6 and wears old clothes or even old pyjamas. We have a selection of great 'Little Learners' T shirts and vests which are ideal as they are dark purple which don't stain easily and then can be kept as the 'messy play' outfit. You can buy them from the website or your teacher.
What should I wear?
Don't forget yourself… wear clothes you don't mind getting messy! Babies love to have a cuddle when they are covered in soap foam, custard and flour…
Do I need to bring anything else?
A towel is a good idea as we usually have a little bath for little ones at the end of the session so you can take them home all clean. A change of clothes and maybe some baby wipes are handy too.
Which activity should I start with?
If your little one is a baby I always suggest starting in the dry trays. Sit your baby on your knee or next to the tray and let them explore at their own pace. They will watch the other children and get used to their surroundings. They will start to reach for the toys or spoons and begin to explore the different materials. Often these textures are quite a new experience so let them guide you. Some babies like to get straight in the mess and others like to watch and observe others for a while. They are learning so much as they watch the others and start to feel the different textures.
If your child is walking, they often like to have a wander around and take a look at everything first before they settle to one activity. We allow them to explore at their own pace, encouraging them to try different activities and showing them what they can do with each activity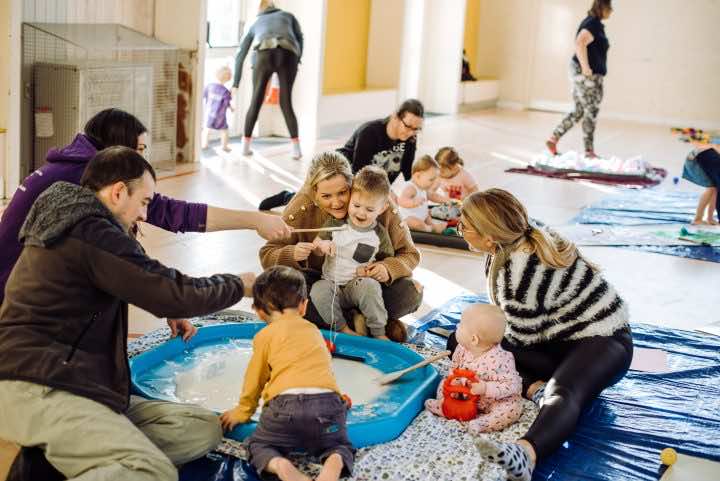 What should I do if they don't want to touch the mess?
Don't worry! Our classes are not all messy play and include other mark making activities and activities which help fine motor skills. There are lots of activities and sensory experiences which don't involve goo and gloop!
I often see children come to the first class and not touch the mess but watch the other children and take part in activities such as drawing, puzzles and block building or play dough instead. As the children come each week I see them gradually get closer to the mess, perhaps starting with drier mess first, until they often end up being the messiest in class! Relax and show them that it doesn't matter if they get messy – maybe by putting your hand in yourself!
What are the benefits of messy play?
There are so many benefits and they cover many areas of the Early Years curriculum. The focus in our classes is on mark making and the physical development needed for early writing. They learn about different shaped marks we can make and start to practise them. Children are also exploring new textures and learning about the world around them. Their vocabulary increases as we talk to them as they play. They get to socialise with other children and practise sharing skills. Children love to fill and empty containers and learn about capacity as they do. Fine motor skills activities are always available, too, to develop muscles in preparation for writing. Children can get creative by painting, drawing and using their imagination with the play dough. So many benefits! And of course, we do all the cleaning up for you!!
If you have any other questions just send a message to your local teacher and they will be happy to help you.