Blog,Manchester North
09/04/2020
With Easter coming up this weekend and lots of time at home for crafty learning, here are some simple ideas for you and your little learners. These 4 crafts all include some threading! Threading is excellent for working your little one's finger muscles and hand-eye coordination, therefore developing their early writing skills. To thread, they need to use their 'pincer grip' to navigate something through a hole, it can be tricky business and lots of fun too!
Easter gift bracelets
As we are not seeing our friends at the moment, your child could make them a little Easter gift to post through their door!
You could colour some penne/tube pasta using paint- just add pasta and a squirt of paint in to a zip-lock food bag and rub it around. It doesn't take long to dry. Plain pasta looks nice too though. Or, cutting up straws to use as your 'beads' works well too.
Using pipe cleaners (easier) or shoe laces thread the pretty beads on.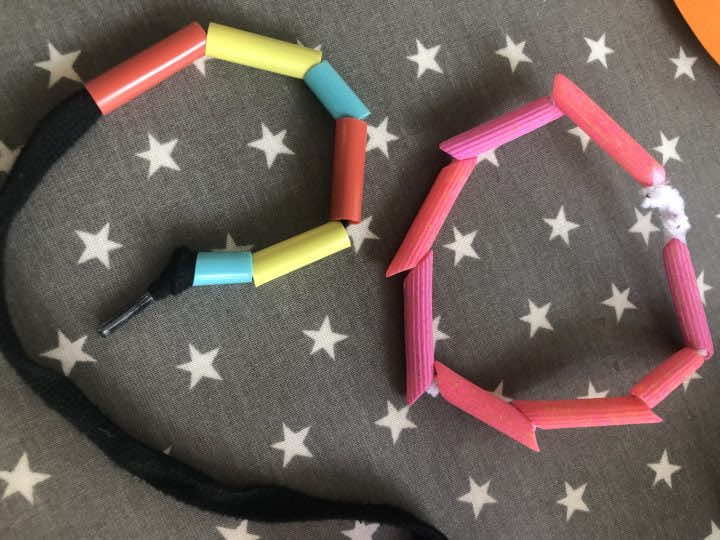 Easter bunting
Why not do some homemade Easter decs for your house this weekend! Passers by would love to see them in your front window!
Paint and decorate for some toilet tubes. We cut our tubes in half.
Hold one end of your rope and have your little one thread the tubes along. You may want to have 'Happy Easter' written on the tubes too, like a banner/garland.
Threading eggs
Cut out an egg/bunny/chick shape from card.
Use a hole punch to make holes for threading. These holes could go around the edge and work inwards as a swirl pattern, zig-zags or straight lines.
We used wool to thread on our eggs but I think coloured ribbon would look great.
Egg weaving
This one really gets their little fingers working!
By pinching the card/paper, make slits in rows, in alternate positions.
Use strips of paper, or even better, ribbons, to weave in and out!
I hope you enjoy using these little ideas! Early years development is fun!
Little Learners Go LIVE
We have been going LIVE each weekday on Facebook with an activity from our Messy Play classes! This week, we learned some threading (just like I have shown you here). Have a watch on our YouTube channel! Remember to subscribe.
Jen – Little Learners, Manchester North